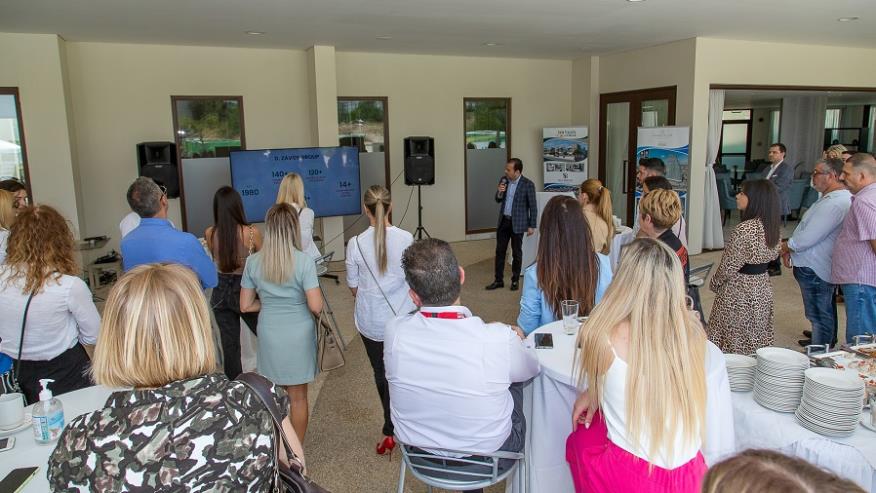 17.05.2022
A two-day presentation of D took place in the residential complex ZAVOS AQUA PARK RESORT . Zavos group . Real estate agents, lawyers, accounting firms, partners and other real estate and land management professionals visited ZAVOS AQUA PARK RESORT and got acquainted with the gardens, swimming pool, cafeteria and the famous ONEWELL wellness and spa center.
Executive Director Michalis Zavos greeted the guests with a brief welcome, in which he spoke about the historical path of the Group, the projects implemented over the past two years and the projects that are already under construction.
Particular attention at the presentation was given to the impressive projects Limassol Del Mar and The Address By The Sea, which are currently key points in the development of the construction sector on the island. Mr. Zavos also mentioned the expansion of ZAVOS AQUA PARK RESORT with an addition to a holiday club with 61 apartments, which is a smart investment move as the project will operate as a hotel unit and apartment owners will receive an investment return of around 5 -6 – 7%.
During 2022, the Group has already announced new projects such as La Maison Court in Germasogeia, Arion Court in the center of Limassol, next to the new ERA and Bel Air mansion in the hilly area of Agios Athanasios and residences in Panioti (Green Zone), Paniotis Maisonettes .
Work has already begun on the second phase, the Sun Valley Villas project, in the booming area of Palodia, work is ongoing on the Sunset Court in the area near the casino in Limassol, as well as the construction of villas in the Sea Breeze area. project in Protaras.
Regarding commercial development projects, Mr. Zavos mentioned the Kriel Tower and Limas Tower commercial projects on Kolonaki Avenue, which are designed to meet the needs of modern corporate infrastructure.
The presentation ended with a reception.
Source and photo: www. inbusinessnews.reporter.com.cy.com, Editor estateofcyprus.com